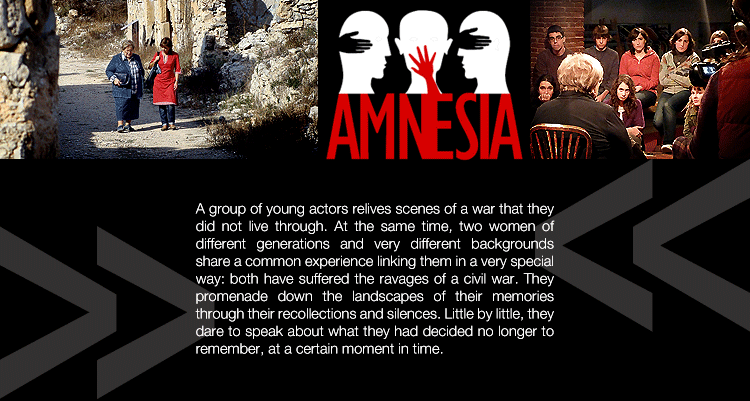 AMNÈSIA: watch the film. English subtitles.
Direction: Dani Lagartofernández and Jordi Oriola i Folch
Catalonia, 2011. OV: Catalan. 27 minutes


Leading roles:


Josefina Piquet: Ex-member of the Women's Association of 1936 (Asociación Dones del '36), exiled in France during her childhood as a result of the Spanish Civil War. For the last 15 years she has given talks at schools and secondary institutes to render testimony of her experiences before groups of youngsters.


Milanka Ljubojevic: She lived in Bihac until war burst out in Bosnia, which forced her to seek refuge in Serbia during a time. Later she moved to Barcelona, where she lives and works since 17 years ago. Actually she prefers not to talk about the subject, in spite of the fact that she is aware of the need to break the silence and give way to words as a way to begin healing certain wounds.
And the theatre group Laboractori Jove, directed by Laia Canosa.



Project team members:
Elisenda Polinyà, Conchi Sanmartín, Pilar Fransitorra, Daniel Lagartofernández, Nieves Prieto and Jordi Oriola i Folch


Produced by the Asociación Cultural Zinhezba, in cooperation with Somni de Mico Produccions and Transformafilms.
Amnèsia is designed as a documentary project to be accompanied with teaching aids specifically intended for secondary education students.
Developed with the support of the Memorial Democràtic de Catalunya (Democratic Memorial of Catalonia), and presented in January 2011 at its headquarters in Barcelona.
FESTIVAL OFFICIAL SELECTION:
- III Gender Documentary International Festival of Soria, MujerDOC, 2012

- Audiovisual and Women Festival of Almeria, Visualízame, 2012
- KO & DIGITAL, Sant Sadurní d'Anoia, 2011
- International Documentary Festival Olot.doc, 2011
PALMARES:
- Special Mention in the International Competition Section of Short Films of the 2012 ARGENTINA FICIP, II International Festival of Political Cinema.
- Girona International Film Festival: Best 2012 Documentary Award.